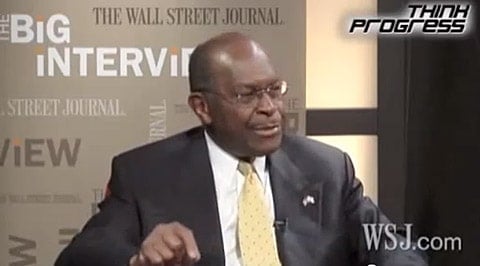 In an interview with the Wall Street Journal, 2012 GOP presidential hopeful Herman Cain criticized the 'Occupy Wall Street' movement, calling the demonstrations organized to distract from failed White House policies:
I don't have facts to back this up, but I happen to believe that these demonstrations are planned and orchestrated to distract from the failed policies of the Obama administration. Don't blame Wall Street, don't blame the big banks, if you don't have a job and you're not rich, blame yourself! […] It is not someone's fault if they succeeded, it is someone's fault if they failed.
Occupy Wall Street in NYC will see its largest march to date later this afternoon as union workers join the protests:
On October 05, 2011, at 3:00 in the afternoon the residents of Liberty Square will gather to join their union brothers and sisters in solidarity and march. At 4:30 in the afternoon the 99% will march in solidarity with #occupywallstreet from Foley Square to the Financial District, where their pensions have disappeared to, where their health has disappeared to. Together we will protest this great injustice.
The movement has also now spread to Chicago, Los Angeles, Boston and many cities in between.
A nation-wide student walk-out is planned for today, Oct. 5, at noon. From New York to Los Angeles, students will march in solidarity with the Occupy Wall Street movement.
Watch the video of Cain and an update from 'Occupy Wall Street' media, AFTER THE JUMP…