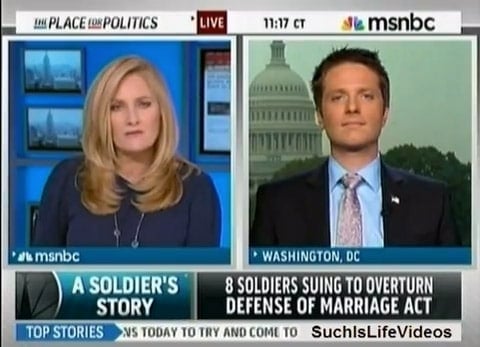 Josh Snyder, husband of Stephen Hill, the soldier booed at a GOP debate last month, talks about that debate and the suit being filed today by Servicemembers Legal Defense Network on behalf of seven troops and two veterans challenging the Defense of Marriage Act.
Watch, AFTER THE JUMP…
Writes the Washington Blade of the lawsuit:
Servicemembers Legal Defense Network filed the lawsuit behalf of eight plaintiff couples in the District Court of Massachusetts. In addition to challenging DOMA, the litigation also challenges Title 10, Title 32 and Title 38 of U.S. Code, which prevents the military from providing benefits to the partners of gay troops.
The lawsuit, in which SLDN has been joined by lawyers from Chadbourne & Parke LLP, lays out previous military statements opposing differing treatment for different servicemembers, as well as post-DADT guidance sent out by the various service branches noting the military's "zero-tolerance policy" for harassment or discrimination. The complaint then argues, "Given the military's 'zero tolerance' for discrimination based on sexual orientation, it is unconscionable that DOMA forces the military to engage in the very discrimination that it prohibits its service members from engaging in through its 'zero tolerance' policy."
In addition to arguing that such treatment violates constitutional equal protection guarantees, the complaint claims that such treatment violates "the fundamental right to marry," "the Tenth Amendment and constitutional principles of federalism" and bills of attainder — which are prohibited by the Constitution and which the lawsuit defines as "any law that legislatively determines guilt and inflicts punishment upon an identifiable individual without provision of the protections of a judicial trial."
I'll post video of this morning's press conference held by SLDN when it's available.