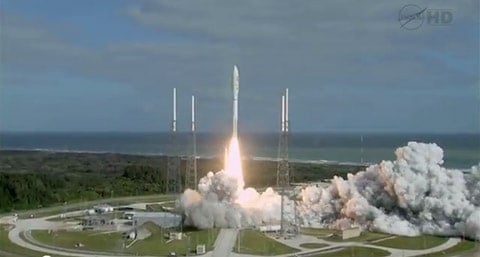 The Mars 'Curiosity' probe, which is the size of a car, and is NASA's largest-ever such explorer, is on its way to the red planet after a picture-perfect lift-off on Saturday:
A signal from NASA's Mars Science Laboratory spacecraft, including the new Curiosity rover, was received by officials on the ground shortly after spacecraft separation. The spacecraft is flying free and headed for Mars after separation from the United Launch Alliance Atlas V rocket that started it on its journey to the Red Planet. Liftoff was on time at 10:02 a.m. EST from Space Launch Complex 41 on Cape Canaveral Air Force Station in Florida.
"Our spacecraft is in excellent health and it's on its way to Mars," said Pete Theisinger, Mars Science Laboratory Project Manager from the Jet Propulsion Laboratory in California. He thanked the launch team, United Launch Alliance, NASA's Launch Services Program and NASA's Kennedy Space Center for their help getting MSL into space.
Watch the stunning lift-off and an intensely cool video of what the Curiosity probe will look like landing on the Martian surface, AFTER THE JUMP…