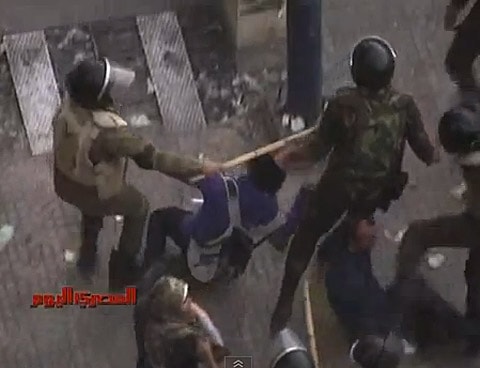 Tahrir Square in Eqypt has erupted again as protesters demonstrate against military rule:
Egyptian troops had been heralded as saviors when their generals ushered out President Mubarak on Feb. 11, but on Sunday they led a new push to clear the square. The Health Ministry said Monday that at least 23 people had been killed. Since Saturday, more than 1,500 people had been wounded, the ministry said.
By Monday evening the crowd in Tahrir Square, the symbolic epicenter of the Arab Spring uprisings, had swelled to a size even larger than the night before, easily exceeding 10,000.
The BBC reports:
Egypt's cabinet has offered to resign after three days of protests against the country's military rulers, state media have reported. Cabinet spokesman Mohammed Hegazy said the resignation had not yet been accepted by the military council. As he spoke, thousands of people swelled crowds of protesters in Cairo's Tahrir Square. More than 20 people have been killed and nearly 1,800 injured in three days of violence in the Egyptian capital.
A disturbing video of Egyptian security forces beating protesters in Cairo emerged over the weekend.
Watch it (warning: graphic), AFTER THE JUMP…