Adam Lambert has been arrested and jailed in Finland after a fight with his Finnish boyfriend Sauli Koskinen outside a gay bar in Helsinki, the tabloid Ilta-Sanomat reports: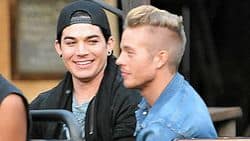 Lambert and Koskinen got into a heated fight between each other when they were partying in Helsinki. Lambert and Koskinen were taken into jail. They will be questioned during this morning after they have sobered up. We have to wait until that, police officer Petri Juvonen told the Finnish newspaper Ilta-Sanomat.
Both men will be held in custody during interrogations. After questioning Adam Lambert and Sauli Koskinen will be released.
The reason of the quarrel between the two lovers has not yet been confirmed. According to the police possible injuries are not severe.
Our assumption is that people were very intoxicated when the officers arrived to the scene…
The tabloid's video of Lambert arriving in Finland, AFTER THE JUMP…