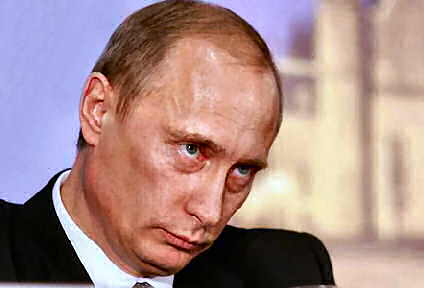 It was a bad day for Putin:
United Russia, the governing party of Prime Minister Vladimir V. Putin, suffered surprisingly steep losses in parliamentary elections on Sunday and was barely clinging to a 50 percent majority, with nearly three-quarters of the votes counted.

The three minority parties that now hold seats in Parliament — the Communist Party, the nationalist Liberal Democratic Party and Just Russia, a social democratic party — all made strong gains, meaning that United Russia would have little choice but to forge a working relationship with at least some segment of the newly empowered opposition.

This weekend, Jonah Mowry's video about being bullied in middle school went seriously, uberly viral, and he wants everyone to know that he's okay. He posted a video to that effect, but it's since been taken down.

Bishop Eddie Long, accused sexual harasser of young male congregants, will cease preaching.

The boys of Hanson introduce their IPA. It's called "MMMHop."

Students sue to get the Ten Commandments out of their school, and school board chairman Eric Gentry calls them "cowards."

This video game doesn't try to entertain, doesn't try to delight. Mostly it wants to bore you, and choke you with angst and ennui. Interested?

The NC marriage amendment continues to lose political support:
North Carolina state Sen. Jim Davis (R) has joined the chorus of Republicans walking back their support of a proposed constitutional amendment that would ban all recognition of same-sex relationships. At a town hall this week, he reiterated his opposition to same-sex couples marrying, but admitted the amendment restricts freedoms "beyond his comfort zone":

DAVIS: I have a lot of libertarian in me. I believe firmly, passionately that a marriage should be defined as being between one man and one woman. But I also believe with all my heart that in a free America people who choose to live a different lifestyle should have a legal right to do so. Just don't call it marriage. [This amendment will] restrict their freedoms a little beyond my comfort zone.

Michael Beitz's vaguely disturbing folding house.

Read about the Singapore SlutWalk.

There is apparently a show called The Virgin Diaries, and on it they show you things like this. Gak!

What destroyed the Cain candidacy?

Nigeria's anti-gay legislation could risk AIDS funding:
A newly added portion of the bill, leveling 10 years in prison for those found guilty of organizing, operating or supporting gay clubs, organizations and meetings, worries advocates in Nigeria. They fear the law could be used against groups providing aid for HIV and AIDS outreach programs that traditionally consider gay men as an at-risk group.

"We work with them trying to reduce their risk factors, trying to make them more healthy and have safer sex practices," said Meyiwa Ede of the donor-funded public health organization Society for Family Health. "If we can't work with them anymore, then they are vulnerable."

But lawmakers playing to the deeply religious nation's dislike of gays and lesbians have said donor nations who threaten to cut aid over the bill can keep their assistance, putting at risk the lives of people reliant on anti-retroviral drugs.

Penn Jillette provides an atheist's guide to the 2012 election. He doesn't say who to vote for, but he says a lot of other things. I mean, a lot of other things. Goodness! Watch AFTER THE JUMP …