An investigation into the hazing death of Robert Champion, Jr., a Florida A&M marching band member last November, has taken a new turn after the student's parents reveal that the 26-year-old student was gay, CBS News reports: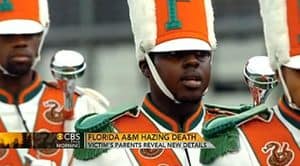 On Nov. 19, Champion was found unresponsive aboard a band bus after the school's biggest game of the year. Police ruled the death a homicide from hazing. About 30 students were on the bus at the time, but no one has been charged, and the Champions have started their own investigation into how their son died.
"The truth will come out as to what happened," says the young man's mother. "I will find out how my son got there, because I know that he would not have willingly, knowingly just walked into that."
Champion family attorney Chris Chestnut says he has now spoken to "a lot" of the people who were there on the day, more than 10 potential witnesses. Some of the students tell Chestnut they were also hazed that night, but none as severely as Champion. They say he was singled out, possibly because he was both a vocal opponent of hazing and a band disciplinarian, and gay.
"It may or may not have been" his sexual orientation which saw him singled out, says Chestnut, allowing only that it is a "possibility."
Champion's mother says her son "wasn't defined by his sexual orientation. He was just defined as being a child going to school, trying to get an education."
Champion's parents are planning to sue Florida A&M as well as the bus company involved.
CNN reports that the Champion family is planning to hold a news conference this morning, and also reports on the alleged hazing ritual:
Some band members have said Champion died after taking part in a rite of passage called "crossing Bus C." One member, who spoke on condition of anonymity, explained that students "walk from the front of the bus to the back of the bus backward while the bus is full of other band members, and you get beaten until you get to the back." The medical examiner's office ruled his death a homicide and said Champion "collapsed and died within an hour of a hazing incident during which he suffered multiple blunt trauma blows to his body." An autopsy conducted after his death found "extensive contusions of his chest, arms, shoulder and back," as well as "evidence of crushing of areas of subcutaneous fat," which is the fatty tissue directly under a person's skin.
Watch the CBS News report on Champion's death, AFTER THE JUMP…