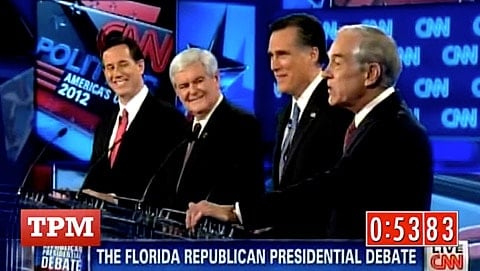 Getting GOP debate fatigue? You're not alone. But here are the big moment's from last night's.
Watch, AFTER THE JUMP…
Here's where they're polling:
Republican presidential candidate Newt Gingrich holds a 9-point lead over his GOP rival Mitt Romney among Republican voters nationwide, according to a new Wall Street Journal/NBC News poll. The new survey comes five days ahead of the Florida Republican primary, where polls suggest Romney has the edge. Victory in Florida could give either Romney or Gingrich the momentum they need to pull ahead as the frontrunner.