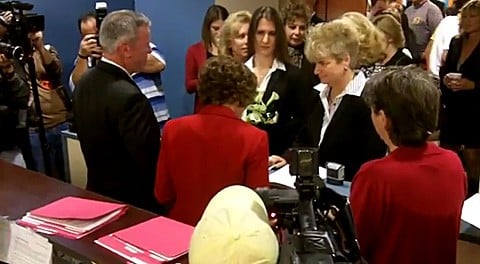 Orlando Mayor Buddy Dyer was on hand today as the city opened its domestic partner registry, the first for same-sex couples in Central Florida.
The registry doesn't carry the legal weight of a marriage, which isn't an option for same-sex couples in Florida. But for some, it felt that way, at least a bit.
"I think it gives us a bond between us, emotionally," said Bob Brings, who with his partner Bill Stevens was one of the first to sign the registry. "It feels good. It might be a piece of paper today, but it symbolizes to me that we are bonded, and we will take care of each other and we will be there till the end."
In all, 25 couples were expected to register on the first day and 93 over the first few days. At 10 a.m., surrounded by a phalanx of news cameras, three couples walked up to the counter in the City Clerk's Office to sign the necessary paperwork…
…Registered couples — gay or straight — are entitled to a handful of rights in certain situations. For a $30 fee, they receive a certificate and two laminated cards, and their names are entered into a government database. Registration allows them to visit one another in the hospital or jail, make health-care decisions for an incapacitated partner and plan a partner's funeral, among other things.
Watch the first gay couples file in, AFTER THE JUMP…