Conservative radio host and former City Councilman Michael Berry was reportedly seen on security cameras in a hit-and-run accident with another vehicle outside TC's Show Bar in Houston's Montrose District on January 31, KPRC reports.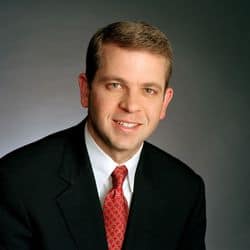 Tuderia Bennett, of Galena Park, told Houston police that he was working as a bouncer at the front door during a popular cross-dressing 'drag show' that was going on inside the club.   He watched the crash happen and told police he rushed up to the car after impact and got a good look at Berry behind the wheel.
Berry may have been leaving the bar:
The report also states, "The ongoing investigation indicates that the suspect is Michael Berry, a local radio talk show host."
Managers of the bar then turned over security camera video from inside the club to HPD investigators, and they write in an e-mail to Local 2 Investigates that their video confirms that Berry was in their establishment that night.
The e-mail reads, "Mr. Berry is one of those customers who has been to our establishment. The video in question that shows Mr. Berry in our establishment is in our possession. The local authorities have requested this same video and they are in possession to assist with their investigation." …
…The victim told Local 2 Investigates he believes the conservative activist is trying to avoid the issue entirely because of his public stances involving gay people.
"If you're going to stand up and say anti-gay things and be conservative and be Mr. Good Guy, and then when something happens that points you out and puts you in a place with the exact business that you aim to shut down, it kind of makes it seem like I need this to go away and I need it to go away quickly," said Bennett.
The Houston Press publishes some more of Berry's bloviating about subjects like the Grammys and the Ground Zero mosque.