Fred Karger makes Republican ballot in California.

Obama gets a break on his marriage equality "evolution" with Prop 8 decision. "We were hoping for a very broad ruling that held that there was a right under the Constitution to same sex marriage," Socarides tells me. "If the court had ruled on those grounds, there would have been more pressure for him to move forward with his evolution on this."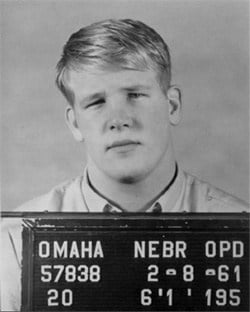 Wasn't he a hot piece in the day?

Jake Gyllenhaal receives flowers from an older gentleman, who happens to be the director of the Berlin International Film Festival.

The Making of Gay Marriage's Top Foe: Salon profiles Maggie Gallagher. "The great trauma of Gallagher's youth, her unplanned pregnancy and subsequent alienation from the father of her child, was rooted in failing to understand that sex and procreation are connected. It is understandable that, having grasped the truth, she is intent on emphasizing its importance."

Buzzfeed on NOM's sneaky, probably illegal system to hide its donors in Minnesota.

Episcopal Bishop Mariann Edgar Budde calls for marriage equality in Maryland: "Every generation, it seems, has struggled to include someone previously thought to be outside the realm of God's grace and full humanity. In our time, we in the Episcopal Church have come to understand that God shows no partiality between straight and gay people. Not every same-sex couple is a paragon of holiness, but neither is every heterosexual couple. Life long relationships are hard, which is why the support of religious and societal institutions is so important."

Ryan Gosling rocks a set of specs and a tight white T in Thailand.

Kelly Clarkson covers Madonna's "Crazy for You".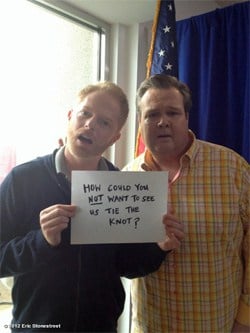 Eric Stonestreet and Jesse Tyler Ferguson respond to the Prop 8 decision on WhoSay.

Robert Pattinson on fame: "You can say, 'Oh if I was still unknown, then no-one would judge me,' but at the same time, nobody would give a shit, either."

Tom Cruise's son Connor didn't like his rep's "gay ass tweet".

Barney Frank to marry in July: "In a conversation Tuesday with USA TODAY, Frank said they have set a July wedding date in Massachusetts, where same-sex marriage is legal. Ready is a resident of Maine, where it is not. The nuptials will make Frank the first member of Congress to have a legal gay marriage. It will also serve as a bookend to his congressional career, as Frank has already announced that he will not seek re-election."

Voice of Christian Youth America joins call for JC Penney to fire Ellen: "Does it offend you, when you hear what retailers now—putting icons before you and your kids who are known, and according to some, flaming homosexuals?"

Daniel Radcliffe: The Oscars snubbed Harry Potter.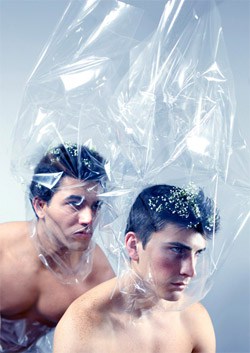 Your flower arrangement has arrived.

HHS updates website, enables search for health plans covering same-sex partners.

Gay Indian man commits suicide after lover marries a woman: "Police said the victim, Narmada Prasad, a resident of Bhainsa village hung himself in his house when he came to know that his lover Rajesh was getting engaged. Prasad dressed himself in bridal finery and wrote his lover's name in red on his forehead before taking the extreme step."

State of Iowa erases lesbian mother from birth certificate: " After the loss of their son, Jenny and Jessica filled out the spaces on the death certificate form for both parents, and indicated that they were married. IDPH sent the couple a death certificate with Jenny's name erased."

The Vampire Lestat could be returning to the big screen: "Brian Grazer and Ron Howard's Imagine Entertainment has optioned the rights to Anne Rice's The Tale of the Body Thief, the fourth book in Rice's best-selling series The Vampire Chronicles."