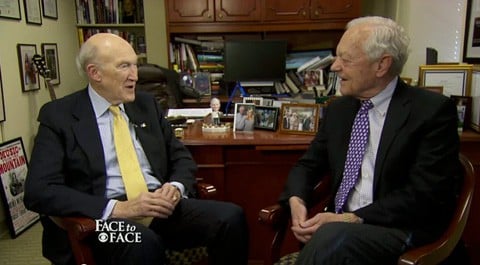 Former Senator Alan Simpson (R-WY) tore into Rick Santorum, calling him "rigid and…homophobic" on Face to Face with Bob Schieffer, adding that he was alarmed at how Republicans are grabbing on to social issues:
"I am convinced that if you get into these social issues and just stay in there about abortion and homosexuality and even mental health they bring up, somehow they're going to take us all to Alaska and float us out in the Bering Sea or something."
Said Simpson of Santorum:
"He said, 'I want a constitutional amendment to ban gay marriage,' and they said, 'Well, what about the people who are already married?' And he said, 'Well, they would be nullified.' I mean what is, what's human, what's kind about that? We're all human beings, we all know or love somebody who's gay or lesbian so what the hell is that about? To me it's startling and borders on disgust."
Watch, AFTER THE JUMP…
Simpson made similar remarks last April, in an interview with Chris Matthews:
"We have homophobes on our party. That's disgusting to me. We're all human beings. We're all God's children. Now if they're going to get off on that stuff—Santorum has said some cruel things—cruel, cruel things—about homosexuals. Ask him about it; see if he attributes the cruelness of his remarks years ago. Foul."