Houston Mayor Annise Parker: "I have a son who looks like Trayvon Martin."

Michael Tomasky on Obama and same-sex marriage: "There are all sorts of reasons why Obama should come out in favor of gay marriage before the 2012 election. But the arguments on the other side are far stronger."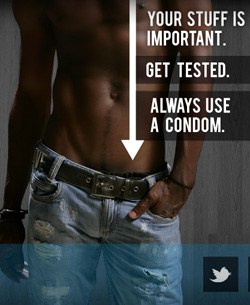 Clear Channel rejects Columbus Public Health agency's safe-sex billboard aimed at young gay African-American men and gay men over 40.

Lourdes lights up.

U.S. Customs to recognize same-sex families at the border: "he Department of Homeland Security announced today that same-sex families will soon be able to cross the border together, filing just one form for all 'members of a family residing in one household.'"

Top Obama strategist David Plouffe dodges marriage equality plank question on This Week.

ACLU tells Camdenton High School here in central Missouri to stop their anti-gay web filtering: "Students…have been able to access the Web sites for Exodus International, as well as People Can Change, antigay organizations that counsel men and women on how to become heterosexual. But the students have not been able to access the Web sites of the Gay and Lesbian Alliance Against Defamation, or the Gay-Straight Alliance Network."

Rafa Nadal slicked back.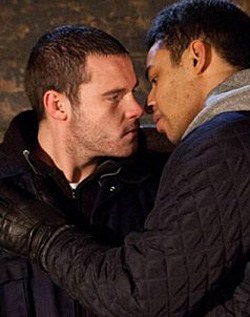 Danny Miller of the UK soap Emmerdale, is leaving the show after seven years: "I won't miss kissing blokes. I haven't got a problem with it but I don't think I'll be reminiscing!"

Last week I posted about Cynthia Davis, a beloved high school principal at Paradise Valley High School in Arizona, fired because she is gay. Supporters have launched a petition condemning the school district's actions.

Matthew Rettenmund's big wrap-up of this weekend's GLAAD awards.

Crazed fan brandishing a brick breaks into Simon Cowell's home while he is watching himself on TV.

Vermont military college holding its first Gay Pride event: "Norwich University's Lesbian, Gay, Bisexual, Transgender, Questioning, and Allies Club held its first meeting in September within hours of the end of "don't ask, don't tell," the rule that prevented gay service members from serving openly in the military. Now, the organization is planning a week of events to be highlighted by Norwich's first queer prom, where Vermont Gov. Peter Shumlin is going to be the keynote speaker."

Male model fix: Emilio Flores.

Patrick Schwarzenegger hits the beach in Miami.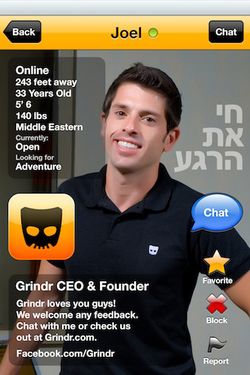 AfterElton talks to Grindr founder Joel Simkhai.

Slovenia rejects gay adoption law in referendum: "he law drafted by Slovenia's former center-left government — and opposed by conservatives close to the Catholic Church — would have allowed gay couples to adopt the biological children of their partners. It did not allow the adoption of children from a third party. With 98 percent of the vote counted, about 55 percent of those who took part in the referendum rejected the law, while about 45 supported it, the state referendum commission said."

'The Situation' barred from showing off his abs while in rehab.

Lexington, Kentucky printing company 'Hands On Originals' tells the Lexington Pride Festival that it won't print their t-shirts: "They reported that due to being a Christian organization they could not print things related to the Pride Festival. This discrimination is the first real setback the Pride Committee has faced.  Members of the committee displayed shock.  Many wondered if perhaps the economy had gotten better since Hands On could turn down a sale…Ultimately, the Committee decided the best reaction was not to lie down and cry but to educate the community about the discrimination still present in Lexington and let the community decide where they want to spend their hard-earned money."