Massachusetts Tea Party Patriots: "We will not be silenced by faggots!"
Study: Strong support for marriage equality in Latino community. "Gallup has been tracking support within the overall U.S. population since 1996. They most recently found that 53 percent of Americans support legal gay marriage. This compares quite nicely with our data on Hispanics, for whom 54 percent offered their support." Report.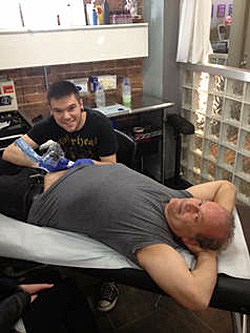 Kelsey Grammer gets 4th wife's name tattooed on his hip.
Iran's religious extremists threaten to close consulate in Tabriz if Gay Pride parade is held in Azerbaijan: "Iranian clergyman Ruhollah Bejani sent a letter to President Mahmoud Ahmadinejad regarding Azerbaijan's intentions to hold 'gay parade' in Tabriz. 'Mister President, zionist Azerbaijan plans to hold a gay parade on May 26. If it really happens, we will close Azerbaijan's consulate in Tabriz,' Iranian news site ansar-tabriz reported."
Male model fix: Tomas Skoloudik.
Pippa Middleton in gun paparazzi incident: "She was in Paris over the weekend to celebrate her friend, fashionista, Arthur de Soultrait's birthday, and while driving around the French capital, her driver waved a gun at photographers and is now facing potential prosecution."
Ryan Gosling dons strategically-stretched t-shirt.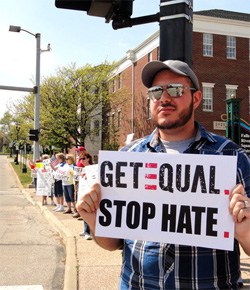 Ohio activists come out to oppose the "Your Money, Your Values, Your Vote" bus tour which took part in the Akron Tea Party Rally on Sunday.
Man auditions to be Denver Broncos cheerleader.
Transgender couple subpoenaed over rash of bomb threats at Pitt: "The couple, Seamus Johnston, 22, and Katherine Anne McCloskey, 56, said FBI agents visited their apartment in Jackson Township, outside of Johnstown, on Wednesday to discuss the bomb threats and served them with subpoenas Thursday. They were ordered to appear Tuesday before a grand jury."
Michele Bachmann on Meet the Press: "What we want is women to be able to make their own choices […] We want women to make their own choices in healthcare. […] Women don't need anyone to tell them what to do on health care. We want women to have their own choices, their own money, that way they can make their own choices for the future of their own bodies."
David Beckham leads L.A. Galaxy to shirtless victory.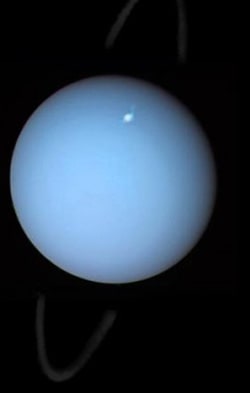 Auroras spotted on Uranus: "The last time we had any definite signals of auroral activity on Uranus was when NASA's Voyager 2 probe swung by in 1986, but this is the first time we can actually see these emissions light up with an Earth-based telescope."
Some people are gay in space: get over it.
Gawker's FOX News 'mole' Joe Muto speaks out. "I think their legal accusations are completely baseless and they're trying to intimidate me into silence because I'm revealing unflattering information about the inner workings of the company."
Northern Ireland student leaders say gay blood ban shames nation: "For government to fail to lift the ban would be scandalous. As well as this being a key equality issue, we also need more blood donors here and this is literally a matter of life and death for a significant number of people in Northern Ireland."
Las Cruces Sun profiles openly gay luchador: "Cassandro is one of the best-known exóticos — cross-dressing luchadors, or wrestlers — in Mexico, with nearly a quarter-century of high-flying grappling under his belt and a résumé that includes tours of the United States, Europe and Japan. He was also Mexico's first openly gay luchador, a brave move in the theatrical but overwhelmingly 'man's man's' world of professional wrestling."