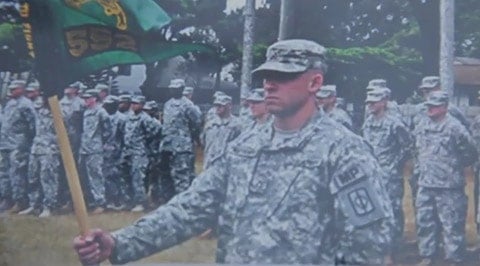 This Memorial Day, I reshare a video which I posted back in 2011 about the late US Army Corporal Andrew Wilfahrt, a gay soldier killed in combat in February, 2011, in Kandahar Province, Afghanistan.
Watch a tribute to Andrew from his parents, AFTER THE JUMP…
As Jonathan Hopkins, OutServe spokesperson and gay combat veteran of the wars in Iraq and Afghanistan, noted at the time:
"Corporal Wilfahrt epitomized the courage, dedication and selflessness that gay and straight troops alike have shown in battle since our nation's founding. Ultimately Corporal Wilfahrt's story is not about differences or politics, but the values that unite all who wear the proud uniform of our nation—loyalty to each other, love of country, and the willingness to give their lives in its defense."
Wilfahrt's death inspired his father, Jeff, to run for political office, and advocate for LGBT rights. He's currently a candidate for office in Minnesota, running in part to defeat the anti-gay marriage amendment there.
Last spring, I testified before our state legislature against passing this amendment. As I testified, I realized this was going to be a tough battle and one I was committed to fighting. My eldest son, CPL Andrew Wilfahrt, was serving as an MP in the United States Army when he was killed by an IED near Kandahar, Afghanistan in February, 2011. The 552nd MP Company 3rd Platoon with whom he served named their combat outpost after him, COP WILFAHRT. Andrew was a great warrior and beloved by his fellow soldiers. He was also an openly gay soldier. I've entered this race for the Minnesota State House of Representatives not only to address the inequity and inhumanity of this amendment, but also to address the many inequities we seem to be building into our communities.
Watch Lori and Jeff Wilfahrt speak about their son, and all soldiers, AFTER THE JUMP…