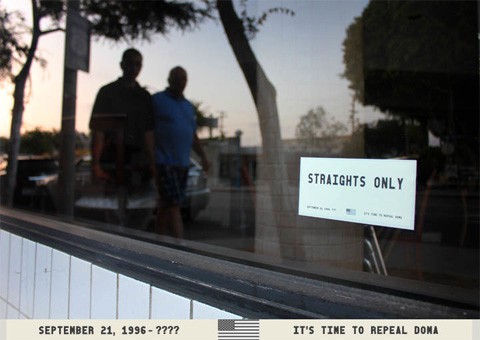 From Castroburger, a street artist and Towleroad reader: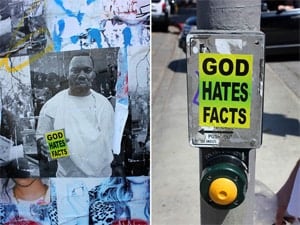 I  have started a new sticker campaign, Straights Only.  It is a play on the Whites Only signs of segregated America. The campaign has spread over the past months to Mexico, Latin America, Texas, North Carolina, Arizona, England, and Scotland and we hope this is just the beginning.
After my boyfriend had to go back to the UK this past February (thanks to DOMA), I needed to vent my frustration and came up with Straights Only after reading a story about a Whites Only sign put up at a public pool in Ohio in 2011.
My intent is to shock the viewer before they read the small print and discover this is about the Defense of Marriage Act (DOMA), which was set up in 1996 to protect traditional marriage. So far this year DOMA has kept my boyfriend 5500 miles away for 4 months and forced us to spend our 5th anniversary apart. And we're not alone in this situation (I'm sure you are aware). There are tens of thousands of other same-sex couples facing considerable time apart each year.
We hope to start making an impact not just in the big cities with Straights Only, but in communities like I grew up in, Denton, Texas.
A bigcartel store has been created for anyone who'd like to get involved.  All proceeds fund my boyfriend's Visa fees. People can also check out our Facebook page.
I asked my boyfriend if he could summarize our struggle for a post and he sent me this:
5 years, 1 month together
$11,000 on flights
143,000 miles flown
312 hours in the air
$4000 visa process
930 missed days together
Need we say more? We are desperate to get our story & our campaign out there so that we can be together and help other gays & lesbians who are in similar situations.