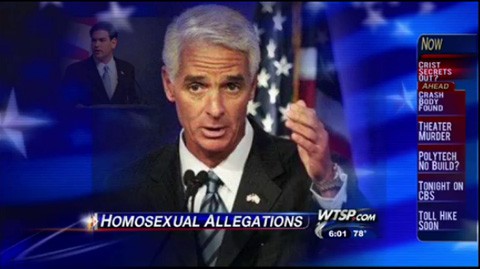 Allegations about former Florida GOP Governor Charlie Crist, long rumored to be gay, are emerging in a Florida Department of Law Enforcement Investigative Report in a scandal involving Republican Party Chair Jim Greer. Greer allegedly paid himself to raise money for the GOP and is set to go to trial in July.
The Crist details have emerged in discovery documents surrounding the investigation, WTSP reports:
The allegations come from Damon Chase, Jim Greer's attorney. Chase told John Morgan of Morgan and Morgan where Charlie Crist works, that if had to depose the former Governor, Crist would be embarrassed by the following issues:
– Charlie Crist is a homosexual and had homosexual relationships with at least two men who were paid to leave the state to avoid embarrassing then Governor Crist.
– Charlie Crist attempted to kiss Greer at a hotel in Beverly Hills, California.
– Governor Crist had drunken escapades and his security detail had to cover for him.
– Charlie Crist attempted to run over people while he was intoxicated and operating a golf cart.
Watch, AFTER THE JUMP…