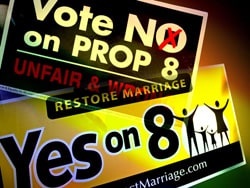 The 9th Circuit Court of Appeals has denied request by Prop 8 proponents for an en banc rehearing of the case.
Reuters reports:
Supporters of the 2008 ban, Proposition 8, have lost two rounds in federal court but have made clear they will appeal to the U.S. Supreme Court and hope for a favorable response from the conservative-leaning court.
The top U.S. court could agree to hear the matter in the session beginning in October, putting it on track to decide the case within a year. It could also decline to review Prop 8.
The ruling:
A majority of the panel has voted to deny the petition for rehearing en banc. Judge N.R. Smith would grant the petition.
The full court was advised of the petition for rehearing en banc. A judge requested a vote on whether to rehear the matter en banc. The matter failed to receive a majority of the votes of the non-recused active judges in favor of en banc consideration. Fed. R. App. P. 35. The petition for rehearing en banc is DENIED.
The mandate is stayed for ninety days pending the filing of a petition for writ of certiorari in the Supreme Court. If such a petition is filed, the stay shall continue until final disposition by the Supreme Court.
Today marks a monumental turning point in our case for equality. AFER's federal constitutional challenge to Proposition 8 is now entering its final stage. The Ninth Circuit Court of Appeals decided today it will not rehear our case. Now, there are only two things that could happen:
Couples start getting married again in California; or Our case for marriage equality goes to the U.S. Supreme Court.
Towleroad's legal expert Ari Ezra Waldman will have analysis coming up in the next couple hours – STAY TUNED….
PDF of the ruling, AFTER THE JUMP…