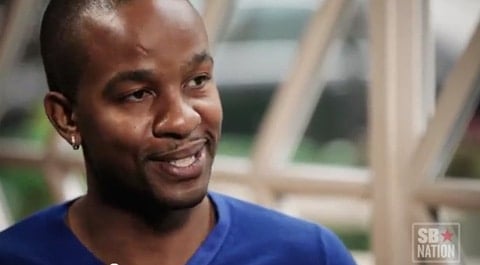 Wade Davis, a former player for the Seattle Seahawks, Tennessee Titans, and Washington Redskins, is talking about the challenges of being gay in the NFL for the first time in a series of interviews with SB Nation and Outsports .
Says Davis: "There was a part of me that was a little relieved because, when I knew football was over, my life would begin. I had this football life, but I didn't have another life away from that. Most of the guys had a family and a wife, but I had football and nothing else."
Watch the interview with SB Nation, AFTER THE JUMP…
In interviews with OutSports and SBNation, Davis talked about the challenges of being closeted in an NFL locker room even as he grew close to heterosexual teammates like the Titans' Jevon Kearse and Samari Rolle.
"You just want to be one of the guys, and you don't want to lose that sense of family," Davis told OutSports. "Your biggest fear is that you'll lose that camaraderie and family. I think about how close I was with Jevon and Samari. It's not like they'd like me less, it's that they have to protect their own brand."
Davis now works with LGBT youth at the Hetrick Martin Institute.
Watch the interview with SB Nation, AFTER THE JUMP…