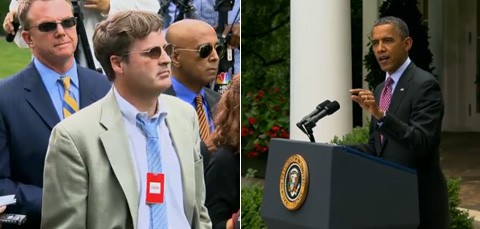 President Obama announced his new immigration rules today regarding halting deportations of young DREAM Act-eligible immigrants and in the process was questioned/heckled by Neil Munro, a reporter from Tucker Carlson's conservative rag The Daily Caller.
Watch, AFTER THE JUMP…
CNN:
At one point after the President addressed him directly, Munro called out, "What about American workers who are unemployed while you employ foreigners?"
"Excuse me sir, it is not the right time for questions sir," Obama said as Munro shouted questions. "Not while I'm speaking."
"The next time I prefer you let me finish my statements before you ask your question," Obama said later in his remarks. "I didn't ask for an argument, I'm answering your question."