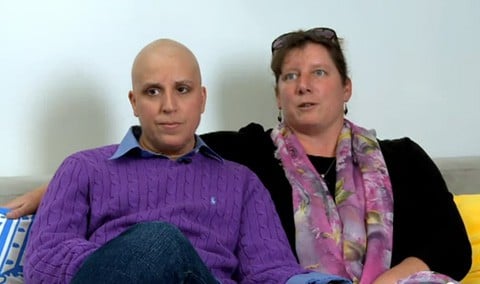 Here's a sobering and important video from Freedom to Marry and SLDN for their Freedom to Serve, Freedom to Marry campaign against DOMA featuring Charlie Morgan and her wife Karen.
You may remember Charlie. We've featured her story on Towleroad a number of times. In September 2011 she came out as a lesbian on MSNBC with Thomas Roberts as he covered the end of 'DADT'. She also went to Washington to meet with John Boehner's office to talk about the difficulties her family faces because of DOMA.
Now she's facing cancer.
Said Morgan today, in a press release: "In 2008, I was diagnosed with breast cancer and underwent a double mastectomy and several rounds of chemotherapy to save my life.  In 2010 – declared cancer free by my oncologist – I was deployed to Kuwait for one year in support of Operation New Dawn.  I faithfully fulfilled my duty and returned home to my wife and our then four-year old daughter.  But last September, we learned the awful truth that my cancer has returned.  It is metastatic and incurable.  We don't know how long I have."
Should Morgan not survive her battle with breast cancer, her family, including their five-year-old daughter, Casey Elena, would not receive the survivors' benefits offered to married heterosexual veterans' families.
It's not just benefits. It's dignity as well. Should Morgan be given the military funeral that she is due, Karen would not be recognized as her spouse — she would just be recognized as a friend.
Watch Morgan tell her story, AFTER THE JUMP…