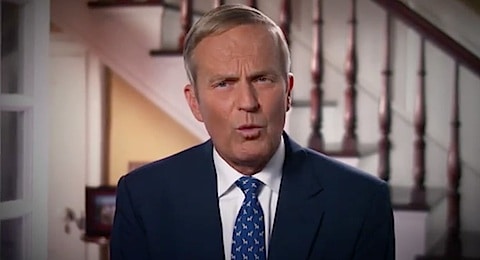 Rep. Todd Akin (R-MO) begs for forgiveness in a new ad released overnight that appears to be an effort to save his Senate campaign which he is being encouraged to quit from nearly every corner of his own party.
Says Akin in the spot: "Rape is an evil act. I used the wrong words in the wrong way and for that I apologize. As the father of two daughters, I want tough justice for predators. I have a compassionate heart for the victims of sexual assault. I pray for them. The fact is, rape can lead to pregnancy. The truth is, rape has many victims. The mistake I made was in the words I said, not in the heart I hold. I ask for your forgiveness."
Watch, AFTER THE JUMP…
Politico adds that Akin is still ahead 44-43 over Claire McCaskill in a poll taken this week after his remarks: "Akin's image problem may take a toll on his head-to-head numbers against McCaskill at some point, but it hasn't yet, and data like this is unlikely to leave Akin convinced that this is a race he can't win."
Akin's weekend remarks about rape have permeated the news cycle. Said the congressman on a radio show:
"First of all, from what I understand from doctors [pregnancy from rape] is really rare. If it's a legitimate rape, the female body has ways to try to shut that whole thing down."
The remarks have proven a nightmare for Republican candidates, eager to remove Akin from the spotlight because the incident casts light on their own poor records on women's issues.