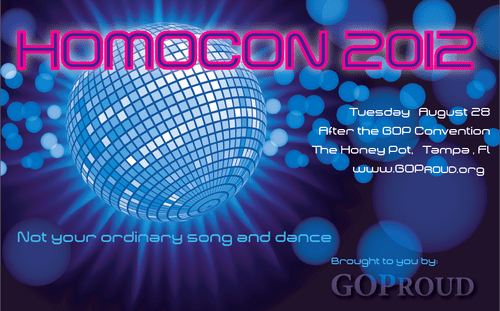 The GOProud folk descending on Central Florida for the Republican National Convention next week have selected a venue for their famed Homocon party, and seem to have solidified the "Special Guest" list.
The venue: The Honey Pot, the premier fetish club in Ybor City — a little burg in Tampa known primarily for its nightlife, and for drawing booze-mad college kids from their campuses in St. Pete, Tampa, and Lakeland.
The "Special Guest" list includes: the American Conservative Union's David Keene. Grover Norquist. Larry O'Connor, of Breitbart. Will Cain. S.E. Cupp. Margaret Hoover. The long-suffering Richard Grenell. Bigshot Tea Partier Amy Kremer. The very-fun Mary Matalin, the sourpuss CNN commentator, famously married to ideological opponent James Carville. And, for some reason, Dana Loesch.
Dana Loesch, the editor-in-chief of Andrew Breitbart's BigJournalism.com, is notably unfriendly to gay people. AFTER THE JUMP, listen to a squirm-inducing clip from Dana's radio show in which she bullies a young, self-identified Christian woman who calls to express her support of marriage equality, and ends up teling to the poor girl that she must, therefore, "hate Christ." The logical contortions Ms. Loesch must perform to arrive at this conclusion are, I think you'll agree, most impressive. (Or indicative of almost incapacitating idiocy.)
Listening to the clip, it's impossible to imagine this woman glad-handing gays in Ybor City, but apparently that's what'll happen. Salud, GOProud: You make crazy happen.
There have been several online reports that Homocon will feature a Paul Ryan lookalike in an upstairs VIP room, but GOProud doesn't mention that in its advertisements, and I can't find any announcement to that effect on the Honey Pot's Facebook page. I called GOProud to ask about it this morning, but it seems there's nobody manning the phones on the weekends.
Again — to get your nerves jangled, listen to Loesch AFTER THE JUMP …
(UPDATE: As I suspected, there will be no Paul Ryan lookalike at Homocon. Also, despite multiple press notices to the contrary, turns out Honey Pot isn't a fetish club at all.)