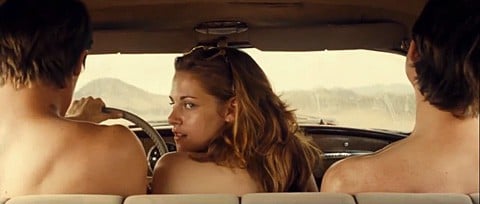 The Walter Salles adaptation of Jack Kerouac's On The Road gets a new trailer.
From The Hollywood Reporter's review:
But it's the group adventures that count the most, and Salles has captured some of them quite evocatively: A wild New Year's Eve party where Dean and Marylou dance in a sexy frenzy; a calm and weird stay at the Louisiana home of the William Burroughs character, Old Bull Lee (Viggo Mortensen, very fine); another sexy scene in which Marylou simultaneously pleasures Dean and Sal (out of camera range) as they all ride naked in the front seat of their car; Dean's escape from domesticity with Camille as he joins Sal at a club to see Slim Gaillard, and a wild sojourn south of the border for mind-blowing weed and Mexican whores.
Less effective are Dean's (Garrett Hedlund) quest for his long-lost father in Denver, the windy ramblings of Allen Ginsberg equivalent Carlo Marx (Tom Sturridge) and an out-of-left-field episode involving a fastidious gay man (an unbilled Steve Buscemi) keen to buy Dean's services.
Watch, AFTER THE JUMP…
Set for release in November.