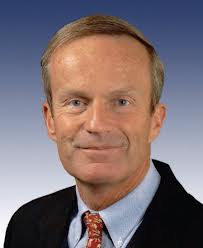 Rep. Todd Akin will ignore Republican calls for him to quit his race for U.S. Senate. He tells Mike Huckabee that he'll continue on.
Said Akin: "We are going to continue with this race for U.S. Senate."
Interview, AFTER THE JUMP…
UPDATE: The National Republican Senatorial Committee says it will not support him.
"This is undoubtedly a difficult time for Congressman Akin, but the stakes in this election are far bigger than any one individual.  By staying in this race, Congressman Akin is putting at great risk many of the issues that he and others in the Republican Party are fighting for, including the repeal of ObamaCare.
"It should not be lost on anyone that some of the only voices not calling for Congressman Akin to do the right thing and step aside are Claire McCaskill and the leaders of the pro-abortion movement.   Senator McCaskill knows that the only way she wins re-election is if Todd Akin is her opponent in November.
 
"We continue to hope that Congressman Akin will do the right thing for the values he holds dear, but there should be no mistake – if he continues with this misguided campaign, it will be without the support and resources of the NRSC."
Developing…
In related news, Rep. Steve King (R-IA) joined him earlier today in sending Republicans off a cliff:
King told an Iowa reporter he's never heard of a child getting pregnant from statutory rape or incest.
"Well I just haven't heard of that being a circumstance that's been brought to me in any personal way," King told KMEG-TV Monday, "and I'd be open to discussion about that subject matter."
A Democratic source flagged King's praise of Akin in the KMEG interview to TPM. But potentially more controversial for King is his suggestion that pregnancies from statutory rape or incest don't exist or happen rarely.