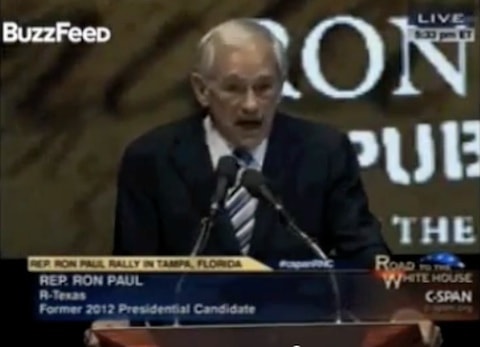 Ron Paul gave a speech yesterday at the University of South Florida Sun Dome at which he said he would have prevented 9/11 from happening had he been in charge.
"Somebody — rather nationally —- said the other day on the Internet 'if those Paul people had been in charge Osama Bin Laden would still be alive.' But you know what I think the answer is? So would the 3000 people killed on 9/11 still be alive!"
Reuters reports on the six-hour rally:
In his last speech of the long campaign season, Paul gave a rambling, 65-minute discourse that jumped from one topic to another and made reference to novels and history. But the crowd stayed engaged, chanting "President Paul, President Paul" and cheering his belief government should be cut.
Filling seats up to the basketball arena's rafters, the sign-waving crowd had already spent most of the five hours before Paul spoke listening to speakers bashing mainstream Republicans, the Federal Reserve and calling for an end to U.S. military involvement overseas.
Romney is reportedly planning to air a tribute video to Paul during the convention in order to woo some of his rabid supporters.
Watch, AFTER THE JUMP…