Gay conservative group GOProud has endorsed Republican Tommy Thompson in the U.S. Senate race from Wisconsin, where he is running against lesbian congresswoman Tammy Baldwin.
Writes GOProud: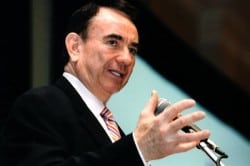 "Tommy Thompson is a common-sense conservative who will focus on creating jobs and growing the economy for all Wisconsin," said Jimmy LaSalvia, Executive Director of GOProud.  "The GOProud Board is thrilled to endorse Governor Thompson."
Tommy Thompson is the former Governor of Wisconsin.  During his tenure as governor, Thompson championed innovative, conservative reforms to solve some of the biggest problems facing the state: entrenched unemployment, entitlement spending and inadequate public education. Thompson ended welfare, dramatically cut taxes, reduced unemployment to record lows and instituted a first-of-its-kind School Choice program. His compelling leadership enabled these reforms to take hold despite working with a Democrat-controlled Legislature for much of his 14 years in office.
Governor Thompson also served as Secretary of Health and Human Services under President George W. Bush.
"Governor Thompson's experience and leadership uniquely qualify him to serve in the U.S. Senate," continued LaSalvia.
Thompson is happy with the endorsement: "I appreciate the support of GOProud and look forward to the growing coalition of broad support joining me on the pathway to victory in November."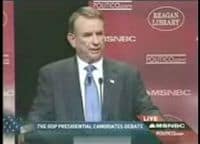 Yesterday, Think Progress pointed out Thompson's virulently anti-gay record:
Thompson ran for governor opposing his predecessor's pioneering efforts to protect gay and lesbian people from discrimination. Thompson said it should be legal to fire someone for being LGBT — and then said it shouldn't. Thompson opposes marriage equality and strongly supports DOMA. Thompson has proudly promoted his anti-LGBT backers. Thompson lead the Bush administration's failed "abstinence-only" programs.
Also, they posted a video of Thompson arguing for the right of businesses to fire gays.
Watch, it, AFTER THE JUMP…