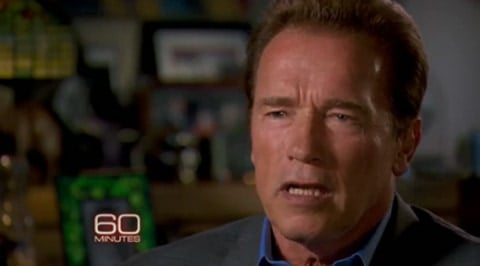 In a 60 Minutes interview airing tonight, Arnold Schwarzenegger tells Lesley Stahl that he performed two gay marriage ceremonies while governor of California, in his office. One of the marriages was an assistant and the other was for his chief of staff Susan Kennedy.
Says Schwarzenegger when asked if that means he is for gay marriage:
I don't have to be for gay marriage. I'm for that she gets the kind of wedding and the kind of ceremony that I had when I got married with Maria. That she happens to love a woman, and I am– a guy that loves a woman, that is two different things. It doesn't make any difference. She should still have her ceremony.
Schwarzenegger vetoed two bills while in office that would have legalized same-sex marriage in the state. It was later legalized by the Supreme Court, and removed shortly thereafter by Proposition 8.
Watch the Schwarzenegger clip, AFTER THE JUMP…