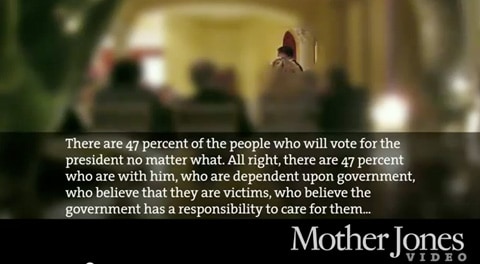 Yesterday, Brandon posted a video of Mitt Romney addressing a group of millionaire donors posted to YouTube by a user named Anne Onymous, in which Romney tells the donors what he thinks about Obama voters.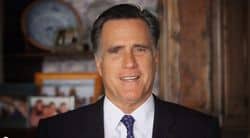 Says Romney in the video:
There are 47 percent of the people who will vote for the president no matter what. All right, there are 47 percent who are with him, who are dependent upon government, who believe that they are victims, who believe the government has a responsibility to care for them, who believe that they are entitled to health care, to food, to housing, to you-name-it. That that's an entitlement. And the government should give it to them. And they will vote for this president no matter what…These are people who pay no income tax.
Watch that video, plus several others that are going viral, AFTER THE JUMP…
Mother Jones' David Corn obtained a much longer recording of Romney's remarks, with footage they've blurred, and is posting excerpts, which detail Romney's response to charges that he isn't attacking Obama hard enough for fear of alienating independents. They discuss his consultants, some of whom he boasts worked for Netanyahu, his opinions on what wins an election, and what will happen to the economy if he's elected (he tells the markets will get a boost if people thinks he's going to win, and then in the following sentences he says "I can– I can never predict what the markets will do. Sometimes it does the exact opposite of what I would have expected…").
Corn adds:
Describing his family background, he quipped about his father, "Had he been born of Mexican parents, I'd have a better shot of winning this." Contending that he is a self-made millionaire who earned his own fortune, Romney insisted, "I have inherited nothing." He remarked, "There is a perception, 'Oh, we were born with a silver spoon, he never had to earn anything and so forth.' Frankly, I was born with a silver spoon, which is the greatest gift you can have: which is to get born in America."
Watch all the videos, AFTER THE JUMP…
Jim Messina, Obama for America Campaign Manager, sent out a statement late this afternoon in response to Romney's statement about Obama voters:
"It's shocking that a candidate for President of the United States would go behind closed doors and declare to a group of wealthy donors that half the American people  view themselves as 'victims,' entitled to handouts, and are unwilling to take 'personal responsibility' for their lives.  It's hard to serve as president for all Americans when you've disdainfully written off half the nation." –
UPDATE: The Romney campaign responds to the 47% remarks:
"Mitt Romney wants to help all Americans struggling in the Obama economy. As the governor has made clear all year, he is concerned about the growing number of people who are dependent on the federal government, including the record number of people who are on food stamps, nearly one in six Americans in poverty, and the 23 million Americans who are struggling to find work. Mitt Romney's plan creates 12 million new jobs in four years, grows the economy and moves Americans off of government dependency and into jobs."
NOTE: Kudos and thanks to Brandon for identifying and posting the video yesterday. Some of you may have read his farewell message in the round-up yesterday. I'd like to thank him for the fine work he's done here at Towleroad as our weekend blogger, and wish him the best in his future endeavors.
Romney on Obama voters: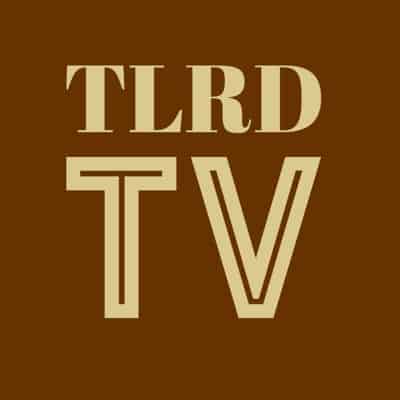 On handling Obama carefully: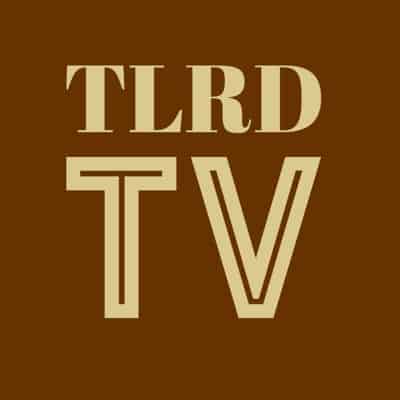 On his consultants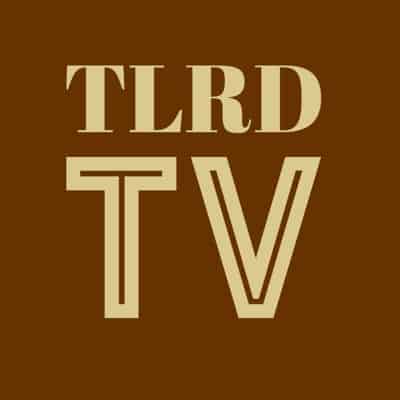 On what wins an election: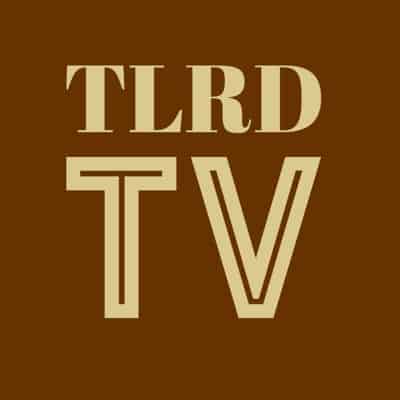 On the economy if he wins: