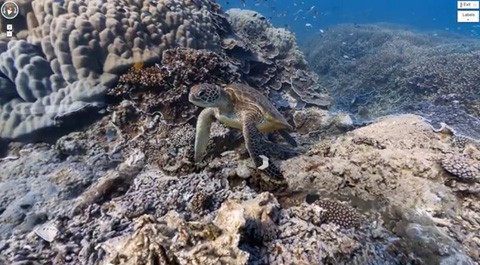 Google Street View is going under the sea, to the Great Barrier Reef.
The Guardian reports:
Up to 50,000 high-definition panoramic images of the reef will be taken by the world's first tablet-operated underwater camera and geolocated. When the rapid-fire images are linked together, users will be able to choose a location along the reef, dip underwater and go for a viewer-controlled virtual dive using the street view feature of Google Maps. Dives already completed at three islands on the Great Barrier Reef, as well as sites in Hawaii and the Philippines, will be available today, with more images virtual dive sites added as the scientists map 20 separate reefs along the 2,300km system to a depth of 100m.
We're partnering with The Catlin Seaview Survey, a major scientific study of the world's reefs, to make these amazing images available to millions of people through the Street View feature of Google Maps. The Catlin Seaview Survey used a specially designed underwater camera, the SVII, to capture these photos.
Whether you're a marine biologist, an avid scuba diver or a landlocked landlubber, we encourage you to dive in and explore the ocean with Google Maps. Check out our complete underwater collection, featuring a Google+ underwater Hangout from the Great Barrier Reef. And you can always explore more imagery from around the world by visiting maps.google.com/streetview.
Watch a preview, AFTER THE JUMP…