Milk cinematographer Harris Savides dies at 55.

Donald Suggs dies at 51: "Donald was an infectious character, and his biography was matched only by his laugh.  Before joining Grassroots Leadership, Donald had been a senior editor at The Village Voice, and the former associate director of the Gay & Lesbian Alliance Against Defamation, or GLAAD.  He also organized a campaign against homophobia in the music industry that was the basis for the British Broadcasting Company film by Issac Julien, 'A Darker Shade of Black.'"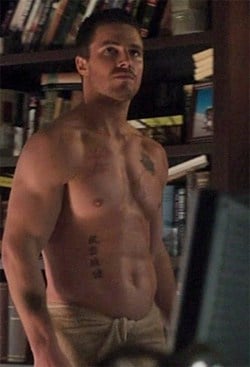 Stephen Amell makes his shirtless debut in Arrow.

Did Liz Taylor have a threesome with JFK and Robert Stack?

Where was the gay marriage question in the VP debate: "With gay marriage is being considered this season on state ballots across the United States — and with the man who played a star role in kicking the civil-rights battle forward sitting on stage in Danville — Raddatz should have queried them publicly on the movement broadening traditional marriage."

The Southern Poverty Law Center, the Illinois Caucus for Adolescent Health, and the American Psychoanalytic Association file complaint challenging "ex-gay" therapist's license.

NARTH admits half of clients are vulnerable LGBT youth:
"We are getting more an more teenagers coming to our clinic," said
NARTH's Dr. Joseph Nicolosi. "Years ago when I did this work, the
average age of our clients was late 20′s and early 30′s…Today, I would
say that 50-percent of the clients at our clinic, and we have 135
ongoing cases a week. We have seven therapists that only deal with
homosexuality. Fifty percent are teenagers."

Jay-Z, Frank Ocean, and Pharrell collaborate.

"iPad mini" coming on October 23rd?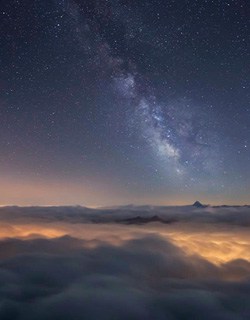 A stunning look at the Milky Way.

David Walliams on Simon Cowell:
"I work with Simon Cowell and a lot of people say he's gay. It will
follow him until the day he dies, but what's the point of worrying about
it?"

FDA approves first-ever home HIV test:
"On October 10, the Food and Drug Administration (FDA) approved
OraQuick, the first over-the-counter HIV test that can be taken in the
privacy of one's home. Using a saliva sample, the test correctly
identifies the virus 92 percent of the time."

Lindsay Lohan calls TMZ to clarify her messed up life.

Colton Haynes leaving Teen Wolf.
"These past few yrs have been the best of my life. I'm sad that this
chapter has ended, but excited for a new one to begin." the 24-year-old
actor tweeted. "Thx for the love"

Rep. Steny Hoyer comes out for Question 6 in Maryland: "In his first extended comments since he announced in May that he supports same-sex marriage, Hoyer said in an interview that his 1996 position on the Defense of Marriage Act measure was 'probably a mistake.'"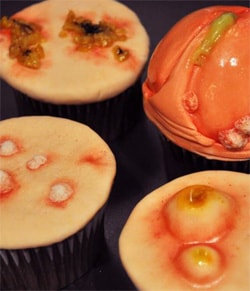 Delicious STD cupcakes, anyone?

Harvard Law Professor Michael Klarman writes on DOMA and the Supreme Court in the NYT: "The Defense of Marriage Act, or DOMA, the 1996 law denying federal recognition to same-sex marriages lawfully performed by states, is probably the easier case for the justices. Historically, Congress has deferred to state definitions of marriage, and several federal courts have invalidated the law on these grounds of federalism. DOMA is also vulnerable because some of its legislative sponsors defended it in blatantly homophobic terms. Polls show that a substantial majority of Americans are opposed to it. Conservative justices who value federalism and liberal justices who sympathize with gay marriage will probably combine to invalidate the act."

Westchester Police Department sued over sex stings targeting men in public parks:
"On October 14, the Department put out a press release announcing that
the sting had netted 16 arrests. Included in the release was the names,
mug shots, towns of residence, and original charges against the men
arrested. 'If you come to Saxon Woods Park for this purpose, you will be
arrested, and your name will be released to the media,' WDPS
Commissioner George Longworth said at the time. Nowhere in Longworth's
press release was the fact that the criminal charges against nearly all
the men had already been dropped, with only non-criminal violations (the
equivalent of traffic tickets) issued against them, and their records
sealed by court order and state law."