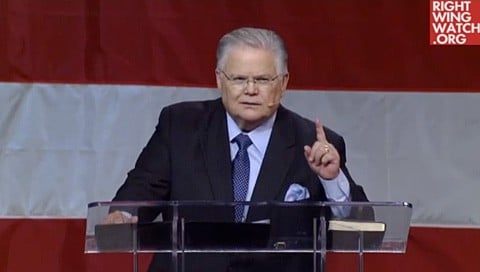 Pastor and televangelist John Hagee is still spouting off his anti-gay rhetoric.
At a recent sermon, Hagee declared that gays are defiling America's "purity", Right Wing Watch reports:
"America does not have purity when men marry men and women marry women, it does not have purity."
Watch, AFTER THE JUMP…
Hagee, you may recall, gave a sermon in 1990 that says Hitler acted on God's behalf in "hunting" the Jews so that they might establish Israel, and has made disparaging remarks about Catholics (for which he apologized) and has also said that gay sin was responsible for Hurricane Katrina. John McCain was forced to cut ties with Hagee during the 2008 election. Last year Hagee warned that DOMA repeal would lead to polygamy.