Police arrest man making threats against L.A. elementary schools.

NASA to smash two spacecraft into the moon at 4,000 mph: "Unfortunately, it won't be a very good show. The impact will happen in darkness, on the moon's far side, and the spacecraft are probably too small to make much of an explosion."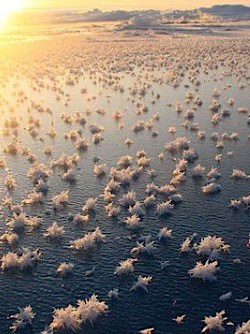 Ice flowers blooming in the Arctic.

Sexiest dad alive?

Antonin Scalia's son Paul tells parents not to label their kids "gay" or its' harder to condemn them: "With that essential distinction made, parents can better oppose the attractions without rejecting the child. And as the child matures, he will not find his identity confined to his sexuality."

26 Christmas trees appear in Newtown, CT.

Neil Patrick Harris on his latest websode 'Restaurant' (Watch HERE): "This one's just a little naughty. But I was just grinning ear to ear filming it, 'cause you see me at a table, but below me there are six different people looking at monitors that are all on the ground wearing head mics with puppets, operating different arms and quickly taking off and removing different puppets."

Poll finds bump in support for gun laws after Sandy Hook tragedy: "The new HuffPost/YouGov survey found that 50 percent of Americans say gun laws should be made more strict than they are now, compared to 43 percent who said that they should remain the same (29 percent) or be made less strict (14 percent). The poll also found support for banning semi-automatic weapons (51 percent to 33 percent) as well as magazine clips holding more than 10 rounds (54 percent to 32 percent)."

David Beckham's son Romeo is now modeling for Burberry.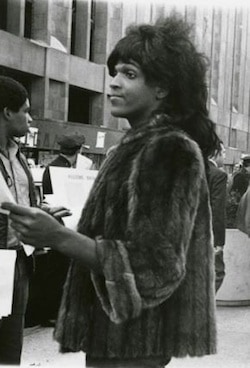 DA reopens Marsha Johnson case: "Johnson,
an unmistakable Greenwich Village fixture who posed for an Andy Warhol
series on drag queens, was pulled from the Hudson River, fully clothed,
near Christopher St. on July 6, 1992. She had been missing for days. Her
death was ruled a suicide by the city's medical examiner, but Johnson's
friends and family believe she was attacked by bullies who regularly
harassed and assaulted her at the pier. The ruling was changed from
"suicide" to "undetermined" in December 2002, as a result of a police
investigation that determined there was not enough information to call
it a suicide."

LGBT groups mark the third anniversary of gay leader Walter Trochez's assassination on December 13 in the capitol of Tegucigalpa.

Michelangelo Signorile: What a gun fanatic sounds like.

American pastor David Dykes has traveled from Tyler Texas, where he pastors Green Acres Baptist Church, to Uganda to offer his support for the "kill the gays" bill. "I'm extremely upset that our state department is putting pressure on Uganda to recognize homosexual behavior. And I'm praying that Uganda will say, 'We don't want your money, America. It is blood money. It is sin money.' I hope that you will continue to stand strong on what the Bible defines as the definition of a real marriage."

These are some excellent picks by David Mixner of the best photojournalism of 2012.

Male model fix: Chad Pinther.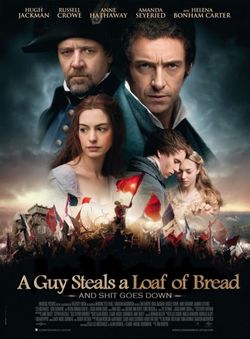 An honest Les Miz poster.

Nielsen to use Twitter to measure TV ratings: "The measure, called 'Nielsen Twitter TV Rating,' will look at the total audience for television on Twitter as part of a multi-year agreement between the two.  Among the information it will aggregate includes: Those who Tweet about particular shows; Those exposed to the Tweets."

James Franco sells debut book of poetry:
"Entitled Directing Herbert White, the book is set to be released in
April 2014. "Herbert White" is the name of a short film Franco wrote and
directed based on a poem by Frank Bidart. This will be Franco's third
book, after his short-story collection, Palo Alto, and his poetry
chapbook, Strongest of the Litter."

Family reveals details about Utah teen who killed himself, say school acted improperly: "On Nov. 29, the day David committed suicide, his mother, Phuong Tran, said she was called at work by the principal, who informed her David had been suspended. When she arrived and asked for an explanation, Tran said school officials brushed her off, perhaps because of her heavy accent. Here is what she understood: Another student had complained — had David made a sexual overture? — and when district officials searched David's backpack, they found a condom, Tran said."