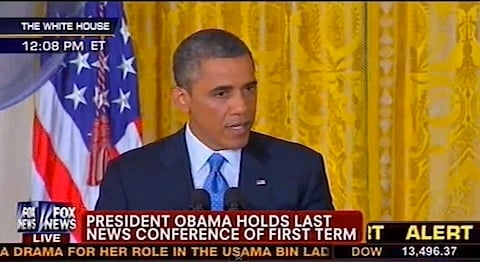 The New York Senate has passed a landmark gun control bill that would ban assault weapons, the NYT reports:
The state Senate, controlled by a coalition of Republicans and a handful of Democrats, approved the legislative package just after 11 p.m. by a lopsided vote of 43 to 18. The Assembly, where Democrats who have been strongly supportive of gun control have an overwhelming majority, planned to vote on the measure Tuesday…
..The expanded ban on assault weapons would broaden the definition of such weapons, banning semiautomatic pistols and rifles with detachable magazines and one military-style feature, as well as semiautomatic shotguns with one military-style feature. New Yorkers who already own such guns could keep them but would be required to register them with the state.
Also:
The legislative package, which Mr. Cuomo said he believed would be "the most comprehensive package in the nation," would ban any gun magazine that can hold over 7 rounds of ammunition — the current limit is 10 rounds. It would also require background checks of ammunition buyers and automated alerts to law enforcement of high-volume purchases.
The legislation would increase penalties for multiple crimes committed with guns, would require background checks for most private gun sales, and create a statewide gun-registration database.
President Obama is expected to announce 19 separate executive actions he could take without the approval of Congress to limit access to guns and curtail gun violence, the NYT also reports, in a separate story:
Actions the president could take on his own are likely to include imposing new limits on guns imported from overseas, compelling federal agencies to improve sharing of mental health records and directing the Centers for Disease Control and Prevention to conduct research on gun violence, according to those briefed on the effort.
White House aides believe Mr. Obama can also ratchet up enforcement of existing laws, including tougher prosecution of people who lie on their background checks.
Watch Obama talk about possible executive orders on guns at his press conference yesterday, AFTER THE JUMP…