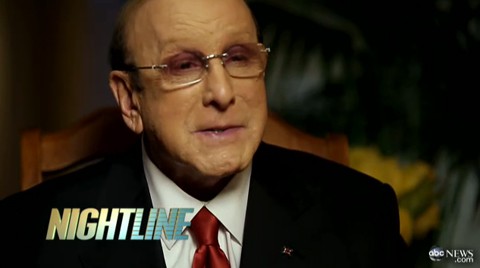 Legendary music producer Clive Davis reveals in a new memoir, The Soundtrack of My Life, that he is bisexual, USA Today reports:
Davis, who is twice divorced, remains close to his family, which includes three sons, a daughter and six grandchildren, and to friends, with whom he vacations regularly. Soundtrack's aforementioned personal revelation acknowledges "something that my children and close friends have always known, but that I knew I would need to discuss in a biography": He considers himself bisexual.
"After my second marriage failed, I met a man who was also grounded in music. Having only had loving relationships and sexual intimacy with women, I opened myself up to the possibility that I could have that with a male, and found that I could."
Davis is currently involved with another man (who isn't in show business), "but I never stopped being attracted to women. Bisexuality is misunderstood; the adage is that you're either straight or gay or lying, but that's not my experience. To call me anything other than bisexual would be inaccurate."
Davis also talked about it with Cynthia McFadden on a Nightline segment which aired last night.
Watch the segment, AFTER THE JUMP…