The Obama administration filed a brief on Thursday in the federal case challenging Proposition 8 urging the Supreme Court to rule that same-sex marriage should be legal in eight more states.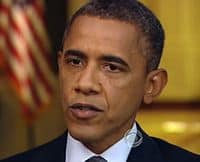 SCOTUSblog writes:
Administration sources said that President Obama was involved directly in the government's choice of whether to enter the case at all, and then in fashioning the argument that it should make.  Having previously endorsed the general idea that same-sex individuals should be allowed to marry the person they love, the President was said to have felt an obligation to have his government take part in the fundamental test of marital rights that is posed by the Proposition 8 case.  The President could take the opportunity to speak to the nation on the marriage question soon.
In essence, the position of the federal government would simultaneously give some support to marriage equality while showing some respect for the rights of states to regulate that institution.  What the brief endorsed is what has been called the "eight-state solution" — that is, if a state already recognizes for same-sex couples all the privileges and benefits that married couples have (as in the eight states that do so through "civil unions") those states must go the final step and allow those couples to get married.  The argument is that it violates the Constitution's guarantee of legal equality when both same-sex and opposite-sex couples are entitled to the same marital benefits, but only the opposite-sex couples can get married.
The eight states that apparently would be covered by such a decision are: California (whose Proposition 8, which denies marriage to couples who already have all of the other marital benefits, would fall), Delaware, Hawaii, Illinois, Nevada, New Jersey, Oregon, and Rhode Island.
Read SCOTUSblog's full post HERE.
UPDATE: Attorney General Eric Holder released a statement about the filing:
"In our filing today in Hollingsworth v. Perry, the government seeks to vindicate the defining constitutional ideal of equal treatment under the law.  Throughout history, we have seen the unjust consequences of decisions and policies rooted in discrimination. The issues before the Supreme Court in this case and the Defense of Marriage Act case are not just important to the tens of thousands Americans who are being denied equal benefits and rights under our laws, but to our Nation as a whole." 
Adam Umhoefer, executive director of the American Foundation for Equal Rights (AFER), the sole sponsor of the Perry case, issued the following statement:
"The brief filed by the Solicitor General is a powerful statement that Proposition 8 cannot be squared with the principles of equality upon which this nation was founded.  It is an unprecedented call to action by our Government that it is time to recognize gay and lesbian Americans as full and equal citizens under the law.  AFER looks forward to having Solicitor General Verrilli and the Federal Government by our side as we make the case for marriage equality for all before the Supreme Court."
Read the brief below:
12-144tsacUnitedStates by towleroad