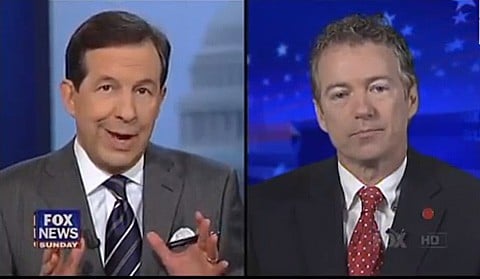 FOX News' Chris Wallace asked Kentucky Senator Rand Paul this morning if he felt that the Supreme Court striking down DOMA would mean too much federal interference in a states' rights matter.
Said Paul:
You know, I think it's a really complicated issue. I've always said that the states have a right to decide. I do believe in traditional marriage, Kentucky has decided it, and I don't think the federal government should tell us otherwise. There are states that have decided in the opposite fashion, and I don't think the federal government should tell anybody or any state government how they should decide this. Marriage has been a state issue for hundreds and hundreds of years.
DOMA is complicated, though, because DOMA does provide protection for the states from the federal government. But, then, you're right, part of it federalizes the issue.
I think there's a chance the court could strike down the federalization part of it. If they do, I think the way to fix it is maybe to try to make all of our laws more neutral towards the issue, and, I don't want the government promoting something I don't believe in. But I also don't mind if the government tries to be neutral on the issue.    You know, the tax code, I'm for a flat income tax and we wouldn't have marriage as part of the tax code. Health insurance, I think there is a way to write it where it would be neutral and you wouldn't bring marriage into the whole idea of health insurance.
Watch, AFTER THE JUMP…