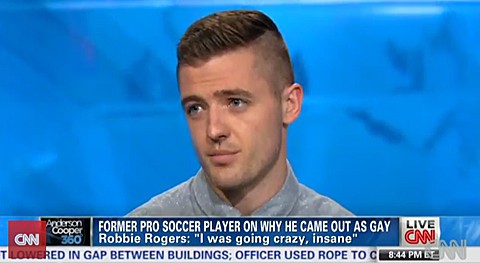 AC360 aired Anderson Cooper's interview last night with Robbie Rogers, the footballer who came out in February and promptly retired. The interview was supposed to air earlier this month but was preempted by the tragic bombings in Boston.
Jason Collins' coming out, however, provided a perfect opportunity to air the clip because in it Rogers discusses having to live a straight stereotype while playing professionally. It would be really nice for CNN to post some longer clips of these interviews.
Watch, AFTER THE JUMP…
In related news, Rogers spoke with E! News about Collins:
I think I was surprised like everyone else. Obviously, I know what it is like going through being gay and being a professional athlete and being closeted and all the emotions and all the thoughts that go through your mind. I don't know him, but I was very happy and proud for him. But most of all, I was happy that our society gave him such a positive response including athletes from all over the world on Twitter. Society is really changing, people are moving along and accepting gay athletes and I think more athletes will follow in his footsteps.