Rupert Everett to play Pope Benedict XVI (and if this ain't, well, it should be):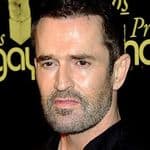 The biopic of the life of the adamantly anti-gay former pope, who resigned at the end of February because of ill health, is to be based on a new biography, and will go into production early next year.
The British actor, who like the former pope does not support same-sex adoption and has criticised same-sex marriage, said: "Like the producers have said, I share the view that Pope Benedict lived an extraordinary life and I am excited at the potentially all-encompassing nature of this project.
"His attitude to gays was perhaps a little extreme but any gay person critical of me for taking this role needs to get real. This film will touch the lives of many."

YouTube shutting down until 2023.

Survivor renewed but will no longer be holding open casting calls: "The application for Survivor has been removed from CBS.com, confirming that the reality competition will no longer accept applications from the public online or via open casting calls, instead relying on the pool of the few hundred men and women who've already competed on the show to fill its casts from now on."

Times of London: NASA's cunning plan to bag an asteroid.

Is this the world's first cell phone? "The mystery of how a woman could have been filmed while using a modern cell phone back in 1938 seems to have finally been solved. Black and white footage of a young female chatting into a wireless handset – said to have been filmed at a factory in the United States in the 30s – has attracted over 300,000 plays on YouTube. Conspiracy theorists hailed the clip as proof of time travel, citing it alongside other instances of old films that appear to show imagery of modern technology existing years before it was invented."

Gmail Blue:

Chris Crocker is transitioning into an alien.

Sony launches headphones for cats.

Find the fake product at ThinkGeek.

BitTorrent site The Pirate Bay is now The Freedom Bay and has moved its servers from North Korea to the U.S. of A.

Find Captain Kidd's Treasure on Google Maps:

Twitter announces Twttr: "Starting today, we are shifting to a two-tiered service: Everyone can use our basic service, Twttr, but you only get consonants. For five dollars a month, you can use our premium "Twitter" service which also includes vowels. We're doing this because we believe that by eliminating vowels, we'll encourage a more efficient and "dense" form of communication. We also see an opportunity to diversify our revenue stream. Here's our mockup of the most retweeted Tweet of all time as it would appear in the new Twttr.

Unerdwear for nerds.

Sushi bar buys gaming company: "Popular sushi chain in Singapore and Jakarta to become world's first F&B company to acquire a technology startup, in a bold move to venture into gamification and mobile development. Gametize's CEO will lead Standing Sushi Bar's technology group while undergoing kitchen training. The company will also introduce a brand new concept bar, Sushitize, where anything from chicken rice to chilli crab, can be 'sushitized' to become a sushi."

Google Nose:
Elderly Obama And Boehner Daughters Arrive In Time Machine To Demand Climate Action.