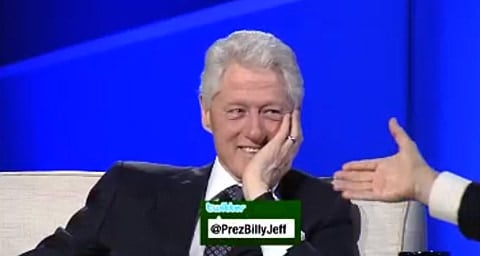 Former President Bill Clinton joined Stephen Colbert at Colbert's 'Galactic Initiative' last night to discuss his philanthropic work.
Said Clinton about why he run's the Clinton Global Initiative:
"It makes me happy. I think after the life I've been given by the American people, I think I'd be a slug if I didn't do it. I think I'm just doing what I should do and it makes me happy."
Later they discussed social networking, and Clinton admitted that it's not something he does much of, explaining that "When I became president there was no email. Then email was largely interoffice." Clinton said that what email did do was create the opportunity for it to be subpoenaed.
Clinton said that while he's on Facebook, he has never joined Twitter:
"I think I'm sort of insecure, like what if you tweet and nobody tweets back? There's nothing worse than a friendless tweeter. You're just wandering around in cyberspace."
So, Colbert told him that he had signed him up.
Watch, AFTER THE JUMP…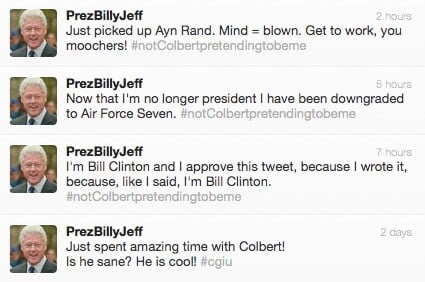 And Here are Parts 1 and 2 if you are interested:
Part 2: