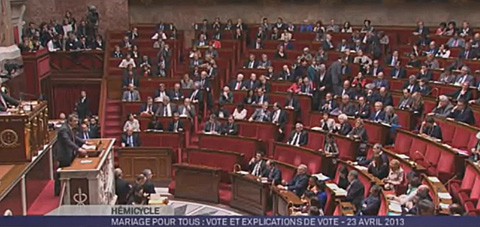 The French National Assembly has made a final vote approving marriage equality in a 331-225 vote!
The vote went down shortly after a protest in the gallery. The Speaker ordered "get these enemies of democracy outside parliament!"
France joins New Zealand, Uruguay, The Netherlands, Belgium, Spain, Canada, South Africa, Norway, Sweden, Portugal, Iceland, Argentina, and Denmark as the 14th nation to offer its citizens nationwide marriage equality.
Brazil, Mexico, and of course, the U.S. offer it in parts of the country.