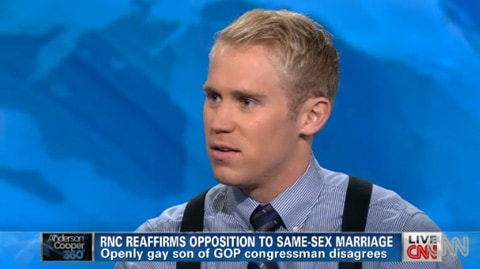 Matt R. Salmon, the gay son of Rep. Matt Salmon (R-AZ), sat down with Anderson Cooper on Friday night to talk about his father, who has spoken publicly of his opposition to same-sex marriage, and his mother, who worked on an anti-gay constitutional amendment in Arizona, about his love for them.
I posted a brief segment on Saturday but here's the full version. Anderson asks Salmon if his parents would be okay with meeting somebody he was dating, and also about his experiences with gay reparative therapy.
SALMON: "Looking back I don't regret it. The goal was to become straight. And it turns out what I took away from it was an increased confidence…A big part of it was really teaching me to make relationships with straight men because that would help me to kind of take on this straightness and so it really helped me actually learn how to talk with men and…"
AC: "It helped you meet guys."
SALMON: "Yeah, yeah, it did."
AC: "I think your doctor right now is spitting up his coffee."
Salmon says that it was his decision to begin reparative therapy (he was 18 at the time he says) but he is very happy now that he is gay and he hopes talking about it will help others in his situation.
Watch, AFTER THE JUMP…