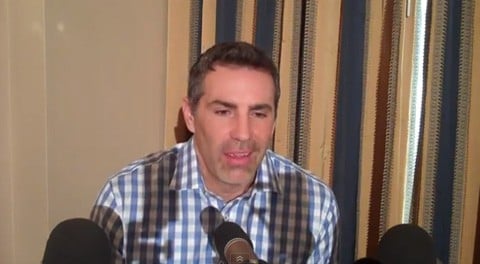 Former NFL Quarterback (and prominent Christian) Kurt Warner is a host on the new USA reality show The Moment, in which contestants are given a second chance to pursue careers.
At a press interview for the show, Warner was asked about the recent talk of gays in the NFL. Warner spoke of his days in the sport:
"It's unfortunate that if there were individuals that felt they couldn't be who they were in an NFL locker room or because of the nature of the game that's a detriment to our society and to what we did in the National Football League or in football in general. I'm interested to see what happens because it is an interesting culture when you're talking about a 'man's sport' or a 'man's game' and how that is all gonna be construed, but I hope that the NFL and football in general, and sports in general accepts it the way that they should accept it and be able to move forward."
He said he would absolutely not discourage a gay contestant who came on his show with the dream of being a quarterback:
"We should never stand in the way of people being who they are and allowing that to affect their career."
Watch, AFTER THE JUMP…