David Beckham announces retirement from football.

16 named tropical storms predicted for 2013 hurricane season.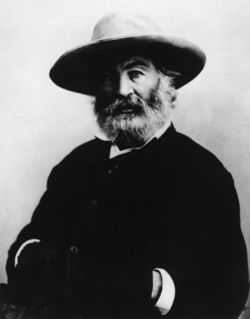 Walt Whitman's 'haversack' to go on display at the Library of Congress for first time.

Kim Kardashian just hearing about Kanye West gay rumors.

Boston bombing suspect left note in boat: "The note, scrawled with a pen on the interior wall of the cabin, said the bombings were retribution for U.S. military action in Afghanistan and Iraq, and called the Boston victims collateral damage in the same way Muslims have been in the American-led wars."

IRS acting commissioner resigns.

Cannes Film Festival kicks off.

Christie's contemporary art auction sets record: "Record prices for 12 contemporary artists including Jackson Pollock, Roy Lichtenstein and Jean-Michel Basquiat made history on Wednesday night. The sale of postwar and contemporary art at Christie's in Rockefeller Center totaled $495 million, the highest sales figure at any art auction."

Previews for Ben Affleck's SNL hosting gig.

Garrett Clayton is flashing his nips on the beach in Santa Monica.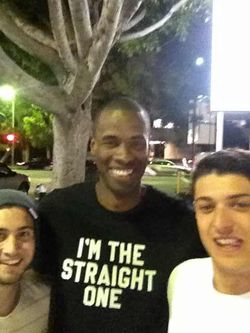 Jarron Collins spotted out in the shirt Jimmy Kimmel gave him.

Activists appeal gay parade ban in Moscow:
"In their complaint, the campaigners recalled the European Court of
Human Rights' ruling in 2010 that found the ban of such public events in
Moscow in 2006, 2007 and 2008 to be illegal."

Gay in Maryland: The Baltimore Sun launches a gay section of their online news site.

Nine former employeed of L.A. gay bar Micky's file lawsuit: "The plaintiffs are charging the popular nightclub, known for its male strippers and go-go dancers, with civil rights violations, which include lewd conduct, creating a sexually hostile work environment, racial discrimination and discrimination against heterosexual employees, and labor code violations."

New Republic: How loneliness can ravage our body and brain. "To psychologists trying to puzzle out how social experiences affect health, AIDS amounted to something of a natural experiment, the chance to observe the effects of conditions so extreme that no ethical person would knowingly subject another person to them. The disease came from a virus—HIV—that was neutralizing all the usual defenses of a discrete group of people who could be compared with each other and also with a control group of the uninfected. That allowed researchers in a lab at UCLA to take on one of life's biggest questions, which had become even more urgent as the disease laid waste to thousands, then tens of thousands: Could social experiences explain why some people die faster than others?"

One Direction announces the first stops on its World Tour.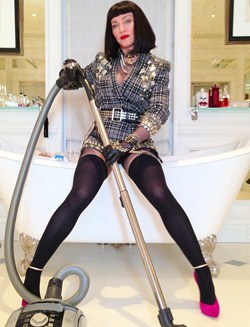 Madonna made a vacuum manufacturer very happy. "Miele's Marketing Director, Dominic Worlsey, said, 'Miele has seen vacuum sales calls more than double since Madonna posted the photo. We've had so much interest that we've contacted her as a potential brand ambassador to launch the 'Immaculate Collection' of Miele vacuums.'"

Conservative group claims AARP is promoting a radical homosexual agenda because it is inclusive.

Pat Robertson offers advice to woman whose husband cheated on her: "Touch his face. Hold his hand. Look into his eyes. Talk to him. … Make a home so wonderful that he doesn't wanna wander."

Malaria mosquitos drawn to smelly socks.
"Scientists collected human odor on nylon socks — by having someone
wear them for 20 hours — and put them, along with clean socks, into an
enclosure with mosquitoes. The bugs infected with P. falciparum showed
more landings and more probing of the smelly socks. None of the
mosquitoes — infected or not — were especially drawn to the socks with
no human odor."