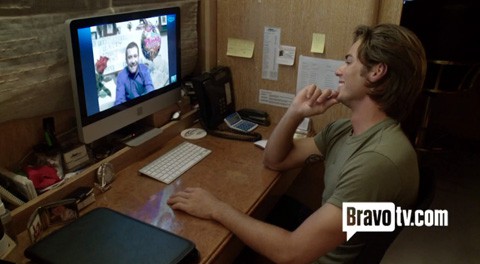 Bravo's Below Deck, a new reality show which follows the adventures of the crew on a luxury yacht, featured a gay marriage proposal on last night's episode.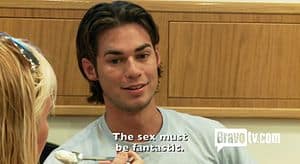 Dave Bradberry, one of the crew members, was proposed to by his boyfriend Trevor Knight, an adult film actor. The show has been very open it. Bravo's site features an interview with Bradberry:
I'm engaged!!! It was so unexpected. We had never really even talked seriously about getting married, so it was very much a surprise. Trevor says it took me being away from him during charter season to realize how much he needed me in his life. The proposal way very impromptu. I was blown away. We have not gotten married yet; we had decided early on that we would not begin the wedding planning until Proposition 8 was overturned. Now that it has been, wedding bells are in the future.
We actually first met during pre-production of my first feature independent film, Bite Marks. I had already been cast, and I was helping with the readings for the other principle roles. Trevor was working as the film's Assistant Director. This was my first "mainstream" project following my short stint in the adult industry. and Trevor never (really) left the adult industry. I'm certainly not proud of the fact that I worked in adult films, but I'm not ashamed of it either, which makes it significantly easier to communicate to new peers. I try not to go through life with regrets. People make decisions and they aren't always good ones. It's what we learn from those choices that matters in the end. 
Watch the proposal and a bit of background on Dave's past, AFTER THE JUMP…
There was also a moment on the episode where crew speculated about a woman on the boat who may have been transgender. Bradberry reacted to it in his interview:
John may or may not have hooked up with a transgender person. Whether or not that happened is completely between them. Sexuality is never black and white, and I think the negative stigma that was being discussed regarding John's new friend was disappointing. The words "tranny" and "she-man" are derogatory and disrespectful. I think it was wildly inappropriate for anyone to bring up to the other charter guests that John was going Below Deck with "a dude." I will say that if the woman was keeping the fact that she was trans a secret, she was playing a very dangerous game. I'd hope anyone planning on spending private time with someone alone in unfamiliar territory would be cautious, open, and honest about such things. Whether or not she was born one gender or the other, she was clearly portraying herself as a woman, and until corrected, the polite thing to do would have been to have think of her as so. To quite the great #RuPaul, we're all born naked, and the rest is drag.
Bradberry also shared some of his personal photographs.
Here is the clip featuring the unfortunate speculation about a woman on the boat: