Obama unveils modest anti-poaching proposal in Africa.

What's the rest of the story behind the ruin of Outserve-SLDN?

Judge dismisses three child molestation cases against voice of Elmo Kevin Clash.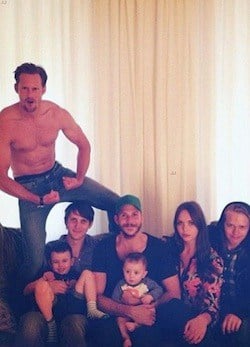 Alexander Skarsgard goes shirtless for a family portrait.

Here's Ian Somerhalder nude drinking beer in a bathtub.

Wine-infused popcorn? "While the company sells a few different flavors, their newest are boozy treats indeed. You can choose between Pinot Noir Drizzle and Sauvignon Blanc Kettle."

Seattle Gay Pride, in photos.

NJ Democratic leaders to hold press conference to urge push for marriage equality.

Istanbul's Taksim Square transformed by Pride: "It was an undeniable success, and organizers were justifiably delighted. But under any other circumstances, things might have been very different. Homosexual conduct between consenting adults is legal in Turkey, but far from accepted. Prejudice is widespread: 84 percent of Turkish people said gays or lesbians were among the groups they would least like living in their area, according to 2011 research conducted as part of the World Values Survey."

Wintourized: Jennifer Lawrence to cover Vogue's September issue.

Lady Gaga's Pride diary.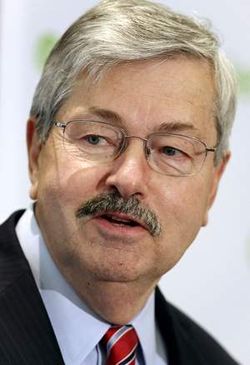 Iowa Governor Terry Branstad on the DOMA rulings: "I guess it depends upon your perspective and your point of view on those things," Branstad told reporters during his weekly news conference at the Iowa Capitol. "I guess people can make your their own judgment on that. We're going to live with the law and make whatever adjustments are necessary."

Montana wingnut: "This is a Christian nation with Christian roots," Erickson said. "(The Founding Fathers) founded this nation on Christian values and said this Constitution would only work with a righteous people. When people choose evil … it will take us away from that and the Constitution won't work any more."

CNN panel: 'N-word' vs. 'Cracker'.

Shannen Doherty and Jennie Garth have a 90210 reunion with Chippendale Ian Ziering.

Reconciling gay identity with Orthodox upbringing through a tattoo: "I chose what I call my T-spot, the place on my left bicep where I place my tefillin box when I pray every morning. I knew that until my tattoo healed, I would be unable to wear tefillin, which I had done every day since just before my bar mitzvah. Even though I was drifting away from the Orthodox identity I'd grown up with, laying tefillin was one of the only commandments that still made me feel a physical connection with G-d. I had learned that tefillin is placed on one's bicep because G-d represents strength; when the box is placed on the bicep in a manner that faces your heart, it shows that G-d is truly in your heart."

Paula Deen headed to Dancing with the Stars?

Boy Culture's big wrap up of Cher's performance at NYC LGBT Pride.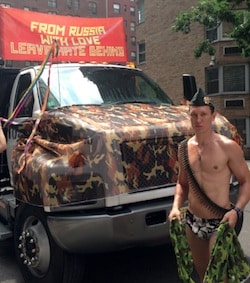 Marching with Russians in the NYC LGBT Pride parade.

Russell Brand on his Morning Joe appearance:
"When I landed in my chair, on camera, and was introduced to the show's
hosts – a typical trident of blonde, brunette and affable chump – it
became clear that, in spite of the show's stated left-leaning
inclination, the frequency they were actually broadcasting was the
shrill, white noise of dumb current affairs."

Judge orders Michigan to stop enforcing a law barring community colleges and many other government agencies (though not universities) from providing any benefits to the same-sex partners of employees: 'While the ruling is only an injunction, Judge David Lawson used strong language in suggesting that he will soon throw out the law for good. He cited the Supreme Court's recent decision rejecting the federal Defense of Marriage Act to say that states cannot enact laws with the goal of discriminating against groups of people. '[I]t is hard to argue with a straight face that the primary purpose — indeed, perhaps the sole purpose — of the statute is other than to deny health benefits to the same-sex partners of public employees,' he wrote."