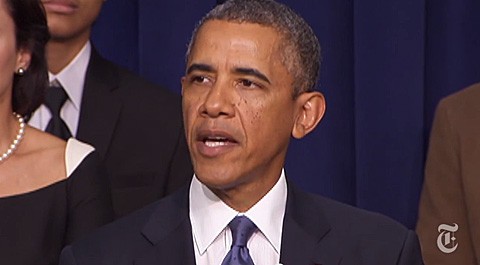 President Obama today addressed the horrific mass shooting that took place this morning at the Washington Navy Yard. At least 12 people are dead so far, including a gunman.
Said Obama:
"We still don't know all the facts, but we do know that several people have been shot and some have been killed. So we are confronting yet another mass shooting and today it happened on a military installation in our nation's capital…These are men and women who were going to work, doing their job, protecting all of us. They are patriots and they know the dangers of serving abroad, but today they faced unimaginable violence that they wouldn't have expected here at home."
Watch, AFTER THE JUMP…
The Washington Post reports:
The dead shooter had an assault rifle and a handgun, two law enforcement officials said. One said he also had a shotgun. The officials said police are working under the theory that there may be additional shooters because of witness accounts and surveillance video. One of those officials also said all the weapons were not accounted for.
At least two police officers were among those shot.
The NYT adds:
Investigators were trying to determine whether any of the suspected gunmen had official access to the Navy Yard. The site is protected by a high wall, with entry through checkpoints that require official identification. However, under the "force protection status" that was believed to have been in effect early Monday, someone with official access to the site could have driven a car into the parking lot without having the trunk inspected, or could have entered on foot without a bag being searched.
Congress has recessed for the day because of the shooting. Flights at Reagan National Airport were briefly halted, and ten schools in the area have been placed on lockdown.