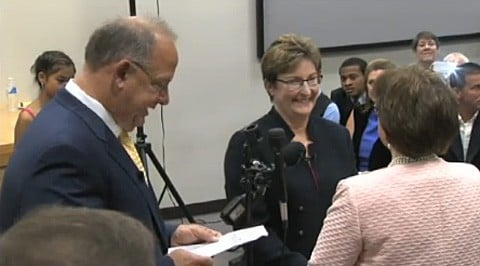 Here's archived video of the ceremony that took place last night at midnight (see previous post) between Joanne Scailey and Beth Asaro as they were married by the mayor of Lambertville NJ. The couple has been together for 27 years.
Asaro, a City Councilwoman and Schailey, a registered nurse was legally married in New York.
They also had a civil union ceremony here in Lambertville in 2007, but today they are making official.
The town's mayor will perform the historic ceremony, fitting for a town that has one of the largest percentages of gay and lesbian couples.
"I'm a 57 year old heterosexual male I took it for granted that growing up I can get married and have a family you know now Beth and Joanne can have the same dreams and aspirations and heartbreak but it's full citizenship," Lambertville Mayor David DelVecchio said.
Watch, AFTER THE JUMP…