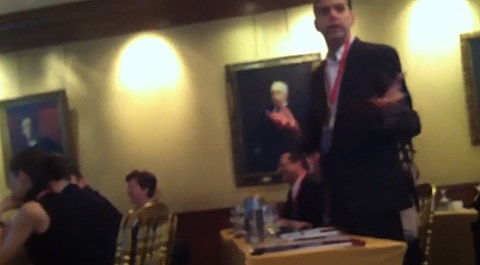 The activist group Queer Nation disrupted a forum on investment held by Russian government officials at the Princeton Club on W. 43rd street in NYC this morning, the group reports.
Watch video of the disruptions, AFTER THE JUMP…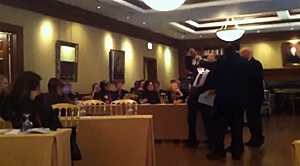 Via press release:
"In my experience, anti-gay bigots are dishonest and corrupt as well," said Queer Nation member Duncan Osborne to the panel. "What assurances can you give investors that their money will be safe in a country with minimal, if any, rule of law?"
The protestors were met with disdain by the panelists from the Moscow Department for Foreign Economic and International Relations. The head of the department, Sergei Cheremin, laughed openly at the protestors' questions.
"This is not funny," Mark Milano, another protestor, told the audience. "You should be divesting, not investing in Russia."
"Gays will be the cultural death of Russia," one American audience member shouted back.
The protestors were escorted out one by one by five security guards. There were no arrests.
The forum was called "Invest in Moscow: Doing Business in Russia's Capital":
Prior to the meeting's start, other Queer Nation members, who held up a 60-foot rainbow flag banner that read "Support Russian Gays" caught the interest of passersby.
"New Yorkers were surprised to find out their tax dollars were being used to encourage investment in a country with anti-LGBT laws," said Alexis Danzig, who led the protest outside the Princeton Club. "New Yorkers don't want this, either."
Watch video of the disruptions, AFTER THE JUMP…