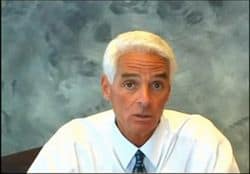 Former Florida Governor Charlie Crist will seek that office again, the Tampa Bay Times reports:
"Charlie Crist begins his comeback bid at 10 a.m. Monday, when he's set to announce he'll challenge Gov. Rick Scott. The event will be held at Albert Whitted Park in St. Petersburg. Public arrival is 9:30 a.m., according to an announcement."
Crist is now a Democrat, and is now for marriage equality.